Keeping Aṉangu law and culture strong at Uluṟu-Kata Tjuṯa National Park, NT
We are thrilled work is commencing on a digital version of the Uluṟu-Kata Tjuṯa National Park Management Plan 2021-2031 in Pitjantjatjara/Yankunytjatjara. The digital version will be developed by the Aṉangu community, Traditional Owners who jointly manage the Park with Parks Australia. The Parks Trust is proud to be helping keep culture strong at Uluṟu.
Our thanks to the Aṉangu Communities Foundation, the Australian Government's Indigenous Languages and Arts program and a philanthropic donor who join with the Uluṟu-Kata Tjuṯa National Park and the Dept. of Agriculture, Water and the Environment to support this project.
We also acknowledge the support of the Mutitjulu Community Aboriginal Corporation and the Central Land Council in establishing the project.
The release of the new Uluṟu-Kata Tjuṯa National Park Plan of Management (2021-2031) by the Minister for the Environment, Sussan Ley, on 4 November, heralds the beginning of this project to create the first ever version of the park management plan in the local indigenous language.
The project will create approximately 20 short videos, maps, diagrams and website for Aṉangu people to understand and communicate the management plan. Aṉangu people will be employed to create the digital content with opportunities for learning about film making. The website design will adopt learnings from the successful Southern and Northern Tanami Indigenous Protected Areas digital story books.
The project will create positive social impact by enabling the Aṉangu people to engage with the management plan, contribute to its implementation and be part of informed decision making.
The traditional language version of the plan will be shared, celebrating Aṉangu culture with the broader community and park visitors.
Thanks to the visionary support of our partners, this project is now fully funded. Project planning, further consultation and employment of key personnel has commenced.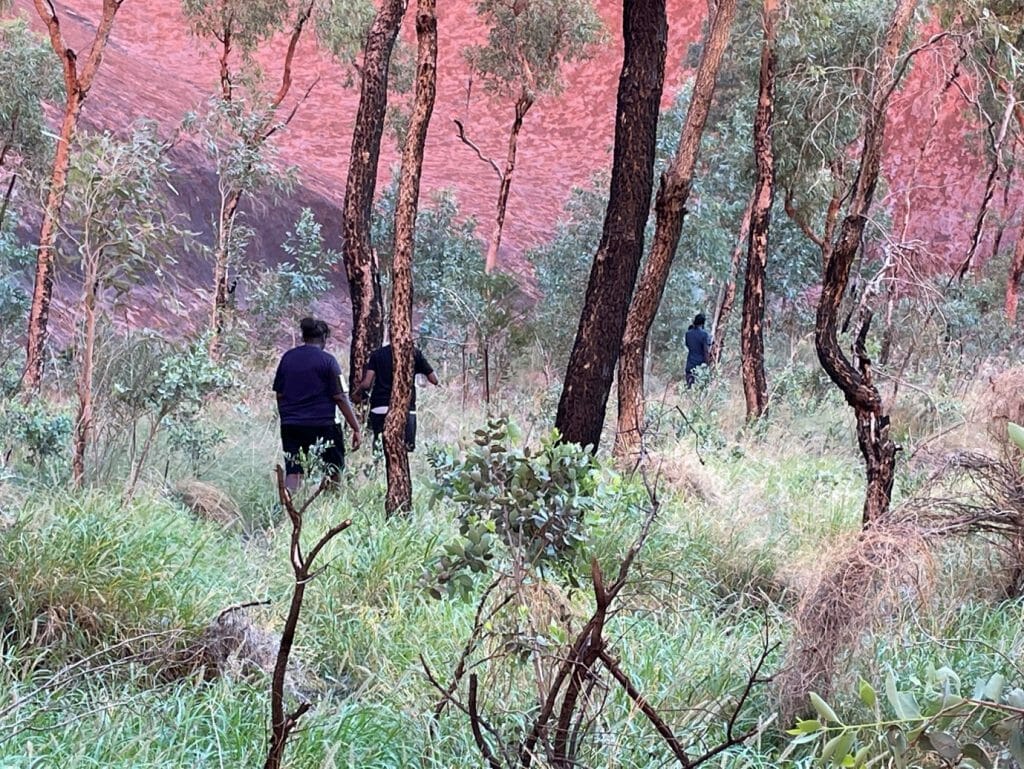 Indigenous women rangers at Uluṟu-Kata Tjuṯa
Top photo credit: Parks Australia