Survive and Thrive: Fire recovery and climate change resilience for threatened sub-alpine plant species
In 2020, Australia's southeastern sub-alpine regions, including Namadgi NP in the ACT, Kosciuszko NP in NSW and Alpine NP in Victoria, were severely impacted by bushfires, devastating much of the high-country flora.
To ensure we do not lose these special plants, the National Parks Conservation Trust, with partners WWF-Australia, the Australian Alps National Parks Cooperative Management Program, the Australian National Botanic Gardens and the ACT Government Environment and Sustainable Development Directorate, have developed the Bushfire Recovery project 'Survive and Thrive'.
The Australian Alps bioregion species targeted by the project have been prioritised for conservation action by the Australian Government Bushfire Expert Panel, ACT Government and local botanic experts working in the region. These species had all or most of their populations burnt by fire, are understood to be rare and likely to meet multiple criteria for threatened species listing and there is either none or limited vegetative and seed stocks safely preserved in existing 'back up' collections.
Our initial goal is to secure five species and our ambition is to secure all 12 species on the priority list.
The first five species to be supported through this project are; the Namadgi Tea Tree (Leptospermum namadgiense), the Slender Parrot Pea (Almaleea capitata), the Dwarf Violet (Viola improcera), a daisy bush, (Olearia sp. Rhizomatica (I.R.Telford 11549), and the Shiny Phebalium (Leionema lamprophyllum subsp. obovatum).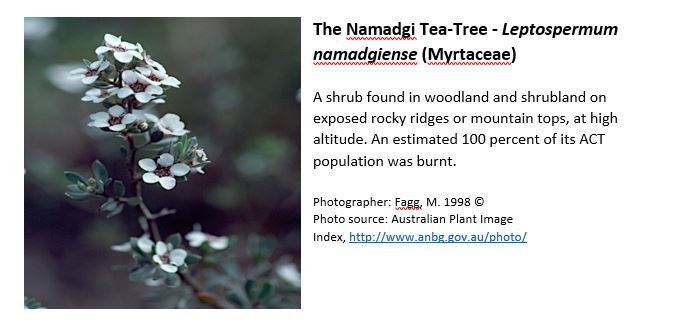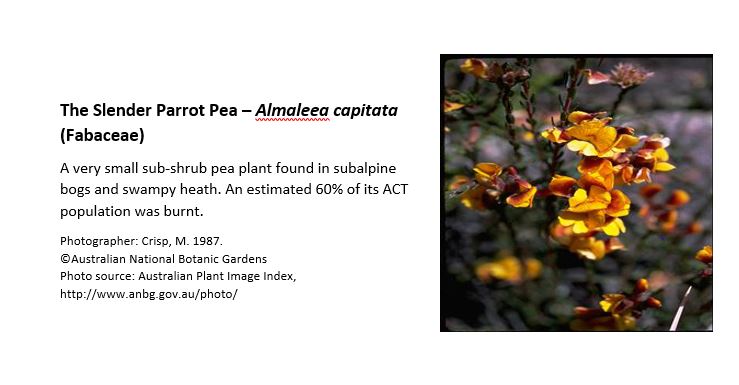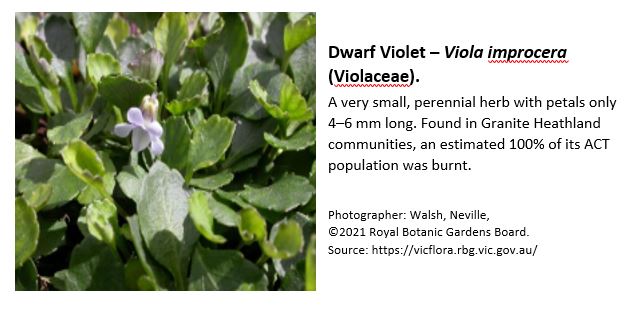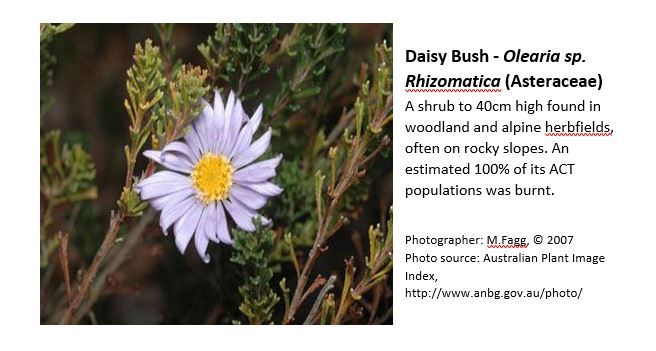 Throughout this three year project, partners will work together to create ex situ conservation collections of target species as an insurance against extinction and to supplement existing efforts to protect remaining populations in the wild.
Funding through Survive and Thrive will support field collection of seed and/or cuttings (if sustainable to do so); seed biologists who will conduct scientific research to understand the germination cues to grow these species; and skilled horticulturalists will undertake propagation research to create an ex situ conservation collection.
NSW Government Biodiversity Conservation and the National Parks Association of the ACT are also assisting to locate target species in remote areas of Namadgi and Kosciuszko National Parks.
The knowledge gained from this research will have Alps-wide implications and will provide the detailed knowledge required to conserve, manage and ultimately restore not only those plant populations impacted by fires but assist to mitigate additional plant biodiversity loss due to climate change.
We would love to work with more partners to increase the conservation impact. More resources will allow a greater number of priority species to be secured. If you are interested in joining this partnership, please contact us at the Parks Trust on 0403 124 902 or hello@parkstrust.org.au.
Header photo: © Emma Cook